Xfinity Customer Service Number
Xfinity customer service is terrible. Comcast is unique among cable companies in hiding how to reach their customer support team by phone.
They also gate access to their chat support online unless you go through a lot of hoops. Good business for them means poor service for you.
Think your Xfinity bill is too high? You're probably right – we've found that 83% of Comcast customers overpay on their bills.
Save on your Xfinity bill without having to talk to their crappy customer support by signing up to BillSmart.
Xfinity 1800 Number
You can reach Xfinity Customer Service at 1-(800)-934-6489.
This is Xfinity's general line. You can get help with all Xfinity services here. You may have to go through a transfer or two to get to the right department.
If you're looking for better customer support, call (800) 266-2278. This is the phone number of the Xfinity loyalty department. You can call them to get the best Comcast deals for existing customers.
When you call Comcast from this number, they know that you're angry and thinking of canceling. You'll get better quality customer support representatives and better offers than if you just called the mainline.
Check out our guide to lowering your Comcast bill if you want more tips.
Chat Customer Support
Besides calling Xfinity, you can also chat with an agent at https://www.xfinity.com/xfinityassistant/
Before they'll let you speak to an agent, they'll ask a couple of questions about your account and what you want to do (like pay your bill).
Yell at the bot enough times and you'll be directed to an agent. This will be the case even if you don't have the information wants you to provide before starting.
Chatting with Xfinity agents takes longer than just calling Comcast directly. It's been our experience that chat agents generally need to check with someone else about how to fix your problem before they get back to you.
You may prefer chatting vs talking if you can do something else while waiting or just hate talking on the phone.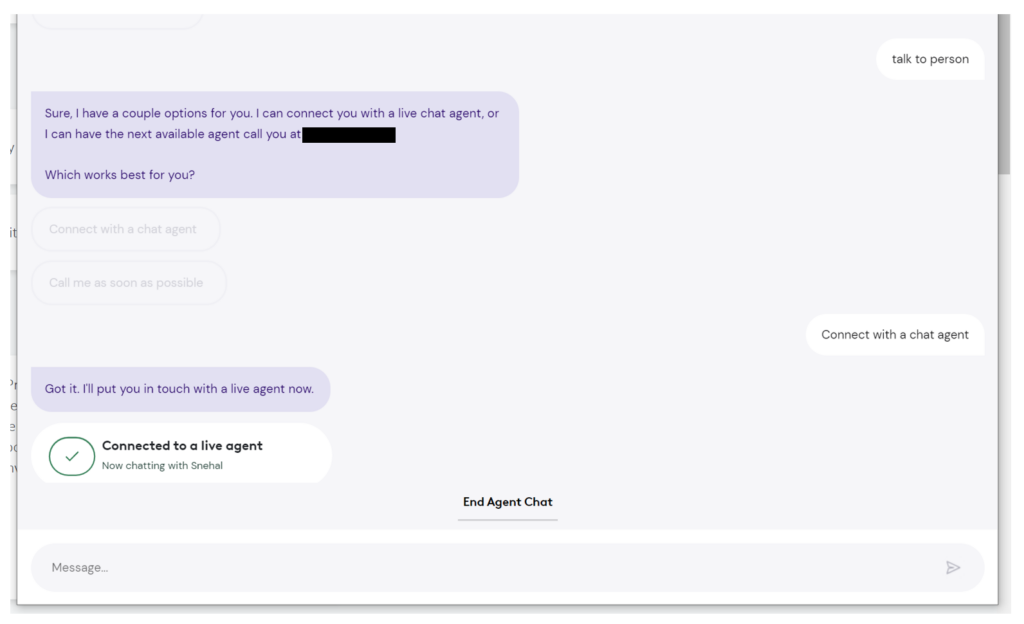 Chat Customer Support
You can also connect with Comcast on Facebook messenger, Twitter, the Xfinity support forums, and Reddit.
Twitter and Reddit are helpful for shaming Xfinity when they made a mistake on their account. They're afraid of awful customer experiences going viral so use this option if you've been wronged. Twitter is better because they can't delete posts like Reddit.
The Xfinity forums are where the many people having problems post their problems and Comcast customer support tries to fix their issues and they mostly fail.
It's like reading a bunch of customer support horror stories. It's generally better to just call or chat with Comcast when you have a problem with them.
Xfinity Mobile Customer Service Number
The Customer Service Number for Xfinity Mobile is (888) 936-4968.
You can call or text Xfinity Mobile to handle whatever customer support needs you have.
If you're trying to text Xfinity Mobile but aren't getting any message, text unstop. You may have blocked them in the past for being annoying.
Unfortunately, Xfinity has made it maddeningly difficult to contact a live person and get your problem fixed.
Their Xfinity Customer support number is an FAQ page and you have to really dig through the menus to figure out how to talk to someone.

Xfinity Mobile Support
You can also talk to Xfinity mobile customer support by chatting with the Xfinity Assistant. This will connect you to a live agent.
As you go through the navigation, you have the option to chat with an agent online or to have a Comcast customer support agent give you a call when they have availability.
Besides phone, text, and online chat, you can also contact Xfinity Mobile customer support by tweeting them @xfinitymobile and messaging them on the Xfinity Mobile Facebook page.
We don't recommend doing that. You're going to get faster service calling or chatting online. However, if Xfinity really messes up, @ them on Twitter to try to shame them into fixing their mistake.
Don't forget for most problems, you can get Comcast to waive their fee. You just need to be persistent and hold your ground.
Comcast Business Customer Service Number
Unlike their residential cable and phone service, Comcast Business makes it is easy to figure out how to contact them.
The phone number of Comcast business is (800) 391-3000. You can call Comcast business customer service and talk to them 24/7.
To cancel your Comcast business account, call (800) 391-3000 to get the process started.
You can also chat with them online here. Their hours vary state to state but you can generally reach them 9am to 6pm Eastern Time.
Lower Your Xfinity Bill With BillSmart!
If you reached the end of this article, you really didn't want to talk to some annoying Xfinity customer support rep.
When you sign up for BillSmart, you'll save money and more importantly time.
We've saved our clients $1.5mm+ to date. Join the ten of thousands of happy customers saving on their phone/cable bill by clicking the button below.