What Channel Is FS1 On Directv?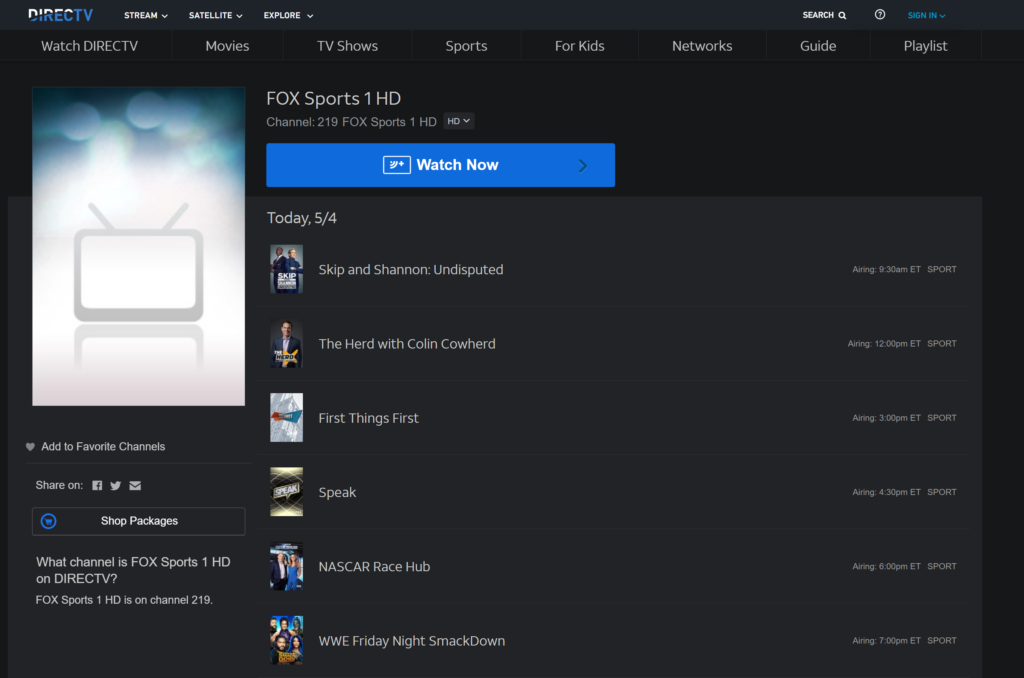 FS1 (Fox Sports 1) is on Channel 219 for DirecTV customers. Its sister channel Fox Sports 2 (FS2) is on Channel 618.
Channel 219 and Channel 618 are the right channels on Directv for Fox Sports channels no matter where you live.
Satellite providers generally have fixed channel numbers vs cable companies like Xfinity and Spectrum where there can be multiple and different FS1s in different cities.
Below, we'll walk you through some of the top sporting events on FS1 and FS2 and other popular shows on the channel.
Want to save money on your TV bill?
Switching to Fubo could save you $200+ a year. The first month is free and you can cancel any time.
Check it out by clicking the link below.
Fox Sports 1 DirecTV Channels
Where FS1 and FS2 is on DIRECTV is pretty simple. 219 for Fox Sports 1 and 618 for Fox Sports 2.
| | | | |
| --- | --- | --- | --- |
| FS1 Channel Info | | | |
| Location | Channel | Location | Channel |
| San Diego | 219 | New Orleans | 219 |
| Sacramento | 219 | Boston | 219 |
| Los Angeles | 219 | Baltimore | 219 |
| San Francisco | 219 | Detroit | 219 |
| Denver | 219 | Minneapolis | 219 |
| Washington DC | 219 | St. Louis | 219 |
| Orlando | 219 | Charlotte | 219 |
| Tampa | 219 | Omaha | 219 |
| Miami | 219 | Albuquerque | 219 |
| Atlanta | 219 | Las Vegas | 219 |
| Honolulu | 219 | New York | 219 |
| Chicago | 219 | Columbus | 219 |
| Kansas City | 219 | Oklahoma City | 219 |
| Seattle | 219 | Portland | 219 |
| Dallas | 219 | Philadelphia | 219 |
| Austin | 219 | Nashville | 219 |
| El Paso | 219 | Memphis | 219 |
| Houston | 219 | San Antonio | 219 |
Have another service provider? Take a look at our ultimate guide to the FS1 Channel in America here.
Directv Fox Sports Channel Options
Watching Fox Sports on DIRECTV can be complicated because there's multiple channels and sports rights shift between different channels and streaming services every couple of years.
The long and short of it is that there are 3 channels where directv customers can watch Fox Sports. They are the Fox Broadcast Channel, FS1, and Fox Sports 2.
The main Fox Channel will have other content besides sports but the biggest games of the season like the Super Bowl and the playoffs for baseball and basketball air on this channel.
You can find out where the Fox broadcast channel is on Directv here.
Fox Sports 1 will have in-season games for baseball and NCAA football and basketball games.
FS2 is mostly reruns of sports news programs on FS1. However, if there's an overflow because a lot of teams are playing at a particular time, NCAA and soccer games will air here.
Shockingly, some games will air on Fox Business if it's a particularly busy weekend.
FS1 Channel League Rights On Directv
The right channel for FS1 on Directv is Channel 219.
Currently, Fox Sports 1 has the rights to 40 regular-season MLB games. At least 8 playoff games will air on the Channel as well.
One of the biggest draws of FS1 is NCAA football and basketball. They have the rights to many of the most popular tournaments in America such as the Pac-12, the Big Ten, and the Holiday Bowl.
Another major draw is Nascar. Most races are aired on Fox Sports 1.
FS1 is also the home to main soccer events such as the most recent FIFA world cup and games from the likes of Major League Soccer.
Some of the regular sports news commentary include The Herd with Colin Cowherd and Skip and Shannon Undisputed.
What Channel Is FS2 On Directv
FS2 is on Channel 618 on Directv and is really the overflow channel for games when Fox Sports is full.
When games aren't on, Fox Sports 2 will be mostly reruns of sports news from FS1.
Some games that will play on the channel include Big East basketball and Mountain West football. Fox Sports 2 also has legacy and new Rugby games.
Sports rights are expensive so there's no way to watch FS1 or FS2 for free without having a pay TV subscription.
On the fox sports website, they have something called preview pass that allows you to watch new and replay games for a couple of minutes. After your timer ends, you'll need to log into your TV provider account and get authenticated to continue watching.
You can also watch on DIRECTV's tv streaming service Directv Stream that comes with your service.
Lower Your TV Bill With Fubo!
We want to watch our teams and games and it doesn't matter what channel they're on.
If your favorite players are playing on FS1, go to Channel 219 and if they're on Fox Sports 2, go to 618.
If you want to save money and get more channels, try out Fubo.
They have channels like NFL Network and GAC that aren't in all DirecTV packages.
Click the link below to get started.

Related Articles
What Channel Is Fox Sports 1 On Spectrum
FS1/FS2 on Dish Network
Comcast FS1 Channels
Directv Packages For Existing Customers
How To Pay Your DirecTV Bill